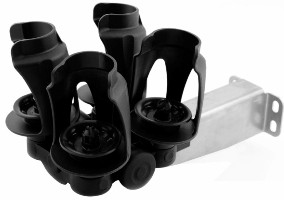 Optiflow III is an innovative new InterPuls washing unit.
It is made of extremely durable plastic; the adjustable clamps offer excellent support for the unit during washing and prevent the rubber tubes from becoming blocked or partially obstructed.
The innovative spinjet guarantees perfect cleaning of the inner structure of the teat-cup liner thanks to the effective rotational flow.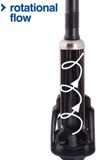 Optiflow III is available with foldable version for traditional milking parlours and with "ceiling" fixing system for milking rotary.
Individual tests are carried out on each Optiflow III unit to ensure that it is in line with the strictest company regulations, in compliance with the ISO standards.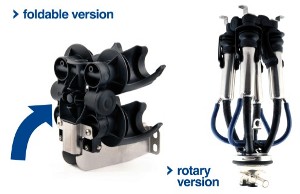 Benefits:
Improved cleaning action thanks to the rotating flow.

Excellent support for the milking unit.

Enhanced internal passages.

Reduction of unwanted air intake.

Adjustable clamps.

Flow adjustment screw.

Folds up for greater compactness.

Double supply pipe for greater flexibility.

Automatic drain valve.
play the clip

Technical Data:
Model: Optiflow III
Weight : 1.27 kg
Dimensions open (LxWxH): 320x175x155 mm
Dimensions closed (LxWxH): 190x175x155 mm
Water inlets ODxID: 16x12.5 mm
D. clamps: 44.5 mm or 42 mm
Model: Optiflow III for rotary parlour
Weight: 0.75 kg
Dimensions (LxWxH): 175x175x155 mm
Water inlets ODxID: 16x12.5 mm
D. clamps: 44.5 mm or 42 mm